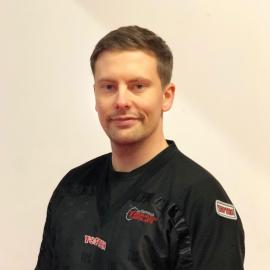 BMMA RUGELEY
Rugeley Martial Arts & Fitness
Wellington Drive
Rugeley WS15 2JX
Sensei Tony Anderton BSc.(Hons) 3rd Dan
Tony began practicing martial arts at the age 6 when he started to train in traditional karate. Through his hard work he soon found himself entering competitions quite successfully and competed for the first time at the age of 9. Tony continued training hard and at the age of 13 he passed his 1st Dan Black Belt. From this point Tony began to develop his skills in instructing other individuals, where it was not uncommon to find him teaching martial artists twice, even three times his age. Tony then used his karate as part of his GCSE PE practical exam where he scored the highest mark in the country, and then in his A Level PE practical exam where again he placed himself at the top of the marks awarded. After finishing his Y13 exams Tony secured himself an unconditional offer into Sheffield Hallam University to study Sports Science with Coaching.
Whilst at university, Tony was placed on the elite performance module, where he received support to help with his studies whilst he was traveling and competing, and he also captained the Sheffield Hallam Karate Squad at the British University Championships. He then went on to compete throughout Europe, representing both Great Britain, and the Gakushuin British Forces team on many occasions. Tony graduated in November 2009 with a Bachelor of Science with Honours in Sports Science with Coaching.
Following his graduation from university, Tony was looking for a career to pursue in sport and fitness when he came across Lee Matthews, who explained to him what exactly his vision for his business was, and how he wanted to grow. Lee also explained that in order to do this, he needed to recruit more instructors. After a very rigorous training schedule and on the job evaluation, Tony was appointed the job of an instructor for Lee Matthews Black Belt Academy, where he now runs the academy's at Tamworth, Rugeley, Wombourne, Nuneaton and Coleshill. After 9 months working with LMBBA Tony decided that he would leave his day job and become a full time martial artist.
Tony is still competing in both traditional karate and kickboxing and mid 2011 made it onto the WMKF England team as one of the elite sponsored competitors. Following this he was then asked to coach within the squad, taking the role of karate points coach. In the 2011 WMKF World Championships, held in Sicily, Tony fought in the -75kg and the Grand Champion Open Weight Karate points divisions. Tony put on an expert display winning both categories and claiming 2 world titles, alongside making the final in the Grandchampion Kata division finishing 3rd.
Tony has been instructing for 10 years and has vast experience in coaching all ages. He also incorporates his extensive knowledge in sports science within his lessons, maximizing student's opportunities to improve, whilst ensuring that you are enjoying yourself in the process.
I think BMMA offers a fantastic vehicle for students to learn martial arts and take charge of their own self-development.
— Dan
Greater Manchester
It's amazing to see the friendships that are built, their skill level develop and how hard they all work as well as their passion and drive.
— Charlotte
Leeds
Being a coach with BMMA has hugely improved my own personal discipline, as it is always clear what is expected of me - my very best!
— Jake
Greater Manchester
My son, aged 14, has achieved so much. His confidence has grown and is now a qualified instructor and Revolution English Champion. Thank you BMMA for everything!
— Annette
UK
My 2 children come here twice a week. Not only have I seen their fitness improve but their discipline too. A great club with a great atmosphere. I cannot recommend BMMA enough.
— Andy
UK
Jake & Dan's classes have impacted all 3 of my children's confidence, skills, discipline and fitness have improved at an incredible rate - they love the classes and look forward to them all week!
— Samantha
Greater Manchester
As a mum, I love the confidence and techniques they are developing to 'stay safe' and, whilst Jake keeps it fun, I think these are important life skills for all ages. I can't recommend BMMA enough!
— Louise
Greater Manchester
I honestly didn't think Martial Arts was something I'd enjoy but I'm so pleased I gave it a go. Each week combines a tough but fantastic workout in a friendly environment and Jake and Dan never fail to keep the classes such fun. I highly recommend trying it!
— Kerry
Greater Manchester
I attend BMMA as a (cough) mature student who has always been 'allergic' to exercise. But after only a few weeks, I've seen changes in my overall fitness levels as well as positive changes in my body tone.
— Natalie
Leeds
All of the instructors are friendly and helpful, a credit to Charlotte and the effort that she puts in. My daughter is a little soldier and has just accomplished her red and black stripe belt and wants to be a black belt like Charlotte!
— Amanda
Leeds
My children have been training with Charlotte for 7 years and all 3 enjoy her classes. We're very proud to have a black-belt in the family - and two more in the making! The atmosphere at the academy is very friendly and the other instructors are great too. We wouldn't train anywhere else!
— Clara
Leeds
Since starting BMMA, my 2 children have grown in confidence and made tons of new friends. They're always smiling from ear to ear whilst training hard. Thank you Jamie for being an inspiring guide.
— Jeremy
Chippenham