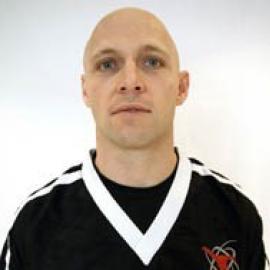 BRITISH MILITARY MARTIAL ARTS ALBRIGHTON
Albrighton Primary School,
Newhouse Lane, Albrighton,
Shropshire, WV7 3QS
BRITISH MILITARY MARTIAL ARTS SHIFNAL
Shifnal Primary School,
Curriers Lane, Shifnal,
Shropshire, TF11 8EJ
My interest in Martial Arts started at an early age watching Martial Artists such as Jackie Chan, Jet Lei and Bruce Lee, watching their movies inspired me to want to be just like them at an early age. My parents couldn't afford to pay for tuition as we were a family with 4 children; also, there weren't  the classes and opportunities that there are today so I didn't manage to join any clubs.
At the later age of 21 I went to my first martial arts class and after that first lesson I was hooked wanting to learn as much as I could about it and achieved my first Black Belt 1st Dan in kickboxing after 3 years of training in the sport.
After achieving my Black Belt I lost interest in the training as there were no new challenges and no structure or program for Black Belts so I had a break from training for probably about a year.
After some time I got the hunger back to start training again and found the club "the Lee Matthews Black Belt Academy" where I trained hard for another 2 years and achieved my Black Belt there too.
After getting my Black Belt I started teaching at the" Lee Matthews Black Belt Academy" and worked my way up to Senior Instructor and Manager at the main academy in  Tweedale Telford and now 3rd Dan in Sport Karate and 3rd Dan Kickboxing
During my time at Lees I've taught and shared my knowledge with hundreds of children and adults from the ages 4 and upwards, I have schools in Telford, Codsall, Shifnal and Albrighton.
My passions are contact sports I enjoy training in MMA Boxing, BJJ, Wrestling, Karate, Maui Thai and Kickboxing
I have also competed nationally and internationally in Kickboxing and MMA and recently achieved bronze and silver in the World Championships in MMA.
I think BMMA offers a fantastic vehicle for students to learn martial arts and take charge of their own self-development.
— Dan
Greater Manchester
It's amazing to see the friendships that are built, their skill level develop and how hard they all work as well as their passion and drive.
— Charlotte
Leeds
Being a coach with BMMA has hugely improved my own personal discipline, as it is always clear what is expected of me - my very best!
— Jake
Greater Manchester
My son, aged 14, has achieved so much. His confidence has grown and is now a qualified instructor and Revolution English Champion. Thank you BMMA for everything!
— Annette
UK
My 2 children come here twice a week. Not only have I seen their fitness improve but their discipline too. A great club with a great atmosphere. I cannot recommend BMMA enough.
— Andy
UK
Jake & Dan's classes have impacted all 3 of my children's confidence, skills, discipline and fitness have improved at an incredible rate - they love the classes and look forward to them all week!
— Samantha
Greater Manchester
As a mum, I love the confidence and techniques they are developing to 'stay safe' and, whilst Jake keeps it fun, I think these are important life skills for all ages. I can't recommend BMMA enough!
— Louise
Greater Manchester
I honestly didn't think Martial Arts was something I'd enjoy but I'm so pleased I gave it a go. Each week combines a tough but fantastic workout in a friendly environment and Jake and Dan never fail to keep the classes such fun. I highly recommend trying it!
— Kerry
Greater Manchester
I attend BMMA as a (cough) mature student who has always been 'allergic' to exercise. But after only a few weeks, I've seen changes in my overall fitness levels as well as positive changes in my body tone.
— Natalie
Leeds
All of the instructors are friendly and helpful, a credit to Charlotte and the effort that she puts in. My daughter is a little soldier and has just accomplished her red and black stripe belt and wants to be a black belt like Charlotte!
— Amanda
Leeds
My children have been training with Charlotte for 7 years and all 3 enjoy her classes. We're very proud to have a black-belt in the family - and two more in the making! The atmosphere at the academy is very friendly and the other instructors are great too. We wouldn't train anywhere else!
— Clara
Leeds
Since starting BMMA, my 2 children have grown in confidence and made tons of new friends. They're always smiling from ear to ear whilst training hard. Thank you Jamie for being an inspiring guide.
— Jeremy
Chippenham