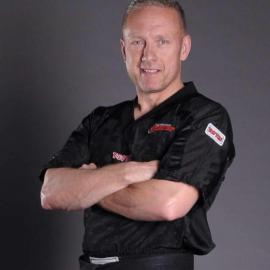 MARTIAL ARTS LEIGH ON SEA
The Deanes Sports Centre,
Daws Heath Road, Benfleet,
Essex, SS7 2TD
BRITISH MILITARY MARTIAL ARTS LEIGH ON SEA
The Freight House,
Rochford,
Essex, SS4 1BU
BRITISH MILITARY MARTIAL ARTS LEIGH ON SEA
Great Wakering Community Centre,
High Street, Great Wakering,
Essex, SS3 0HX
Rob Read Black belt Instructor Kickboxing, Sombo (Sambo) Instructor, Restraint and Arrest Instructor, Personal Trainer, Sports Therapist and Rehab Specialist Trainer. WMKF Sports Therapist.
He is an all-round sportsman  competing in Boxing, Judo, Downhill Skiing, Cross Country skiing(Biathlon) Athletics 400m Hurdles, 800m, Cross Country,  Modern Triathlon,  Basketball and Gymnastics (paralell bars)
Rob spent 12 years in the Army as a Physical Training Instructor/Restraint & Arrest Instructor and Telecommunications Operator (Radio). He Served In Norway specialising in Arctic Survival, Germany, Gibraltar, Italy, Turkey, Denmark, Northern Ireland and the Falkland Islands.
Rob Currently teaches kickboxing, self-defence and personal training in Essex, for all age groups from a 4 year olds to a 68 year old helping them to achieve all their personal goals and beyond. He also offers injury advice and Treatments. His day-time job is for the NHS as a Fitness and Healthy Lifestyle Coach.
On a personal note, Rob states 'age should be no barrier in what you want to achieve in life' if you have the drive, the will and the passion eventually you can succeed.
So please come and join our classes make new friends and be part of our Martial Arts Family.
I think BMMA offers a fantastic vehicle for students to learn martial arts and take charge of their own self-development.
— Dan
Greater Manchester
It's amazing to see the friendships that are built, their skill level develop and how hard they all work as well as their passion and drive.
— Charlotte
Leeds
Being a coach with BMMA has hugely improved my own personal discipline, as it is always clear what is expected of me - my very best!
— Jake
Greater Manchester
My son, aged 14, has achieved so much. His confidence has grown and is now a qualified instructor and Revolution English Champion. Thank you BMMA for everything!
— Annette
UK
My 2 children come here twice a week. Not only have I seen their fitness improve but their discipline too. A great club with a great atmosphere. I cannot recommend BMMA enough.
— Andy
UK
Jake & Dan's classes have impacted all 3 of my children's confidence, skills, discipline and fitness have improved at an incredible rate - they love the classes and look forward to them all week!
— Samantha
Greater Manchester
As a mum, I love the confidence and techniques they are developing to 'stay safe' and, whilst Jake keeps it fun, I think these are important life skills for all ages. I can't recommend BMMA enough!
— Louise
Greater Manchester
I honestly didn't think Martial Arts was something I'd enjoy but I'm so pleased I gave it a go. Each week combines a tough but fantastic workout in a friendly environment and Jake and Dan never fail to keep the classes such fun. I highly recommend trying it!
— Kerry
Greater Manchester
I attend BMMA as a (cough) mature student who has always been 'allergic' to exercise. But after only a few weeks, I've seen changes in my overall fitness levels as well as positive changes in my body tone.
— Natalie
Leeds
All of the instructors are friendly and helpful, a credit to Charlotte and the effort that she puts in. My daughter is a little soldier and has just accomplished her red and black stripe belt and wants to be a black belt like Charlotte!
— Amanda
Leeds
My children have been training with Charlotte for 7 years and all 3 enjoy her classes. We're very proud to have a black-belt in the family - and two more in the making! The atmosphere at the academy is very friendly and the other instructors are great too. We wouldn't train anywhere else!
— Clara
Leeds
Since starting BMMA, my 2 children have grown in confidence and made tons of new friends. They're always smiling from ear to ear whilst training hard. Thank you Jamie for being an inspiring guide.
— Jeremy
Chippenham