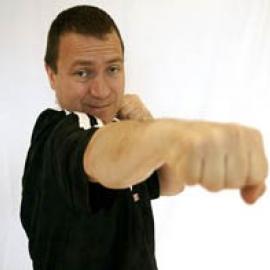 BRITISH MILITARY MARTIAL ARTS LUDLOW
Ludlow Junior School,
Clee View, Ludlow,
Shropshire, SY8 1HX
BRITISH MILITARY MARTIAL ARTS BRIDGNORTH
East Gym,
Oldbury Wells School, Oldbury Wells Lane, Bridgnorth,
Shropshire, WV16 5JD
BRITISH MILITARY MARTIAL ARTS TETTENHALL
Christchurch Junior School,
Woodcote Road, Tettenhall,
Wolverhampton, WV6 8LG
My first martial arts class with Lee Matthews was in 1999. I wanted my 6 year son, Daniel to take up kickboxing. Daniel got nervous and wouldn't take part unless I agreed to join in. This was probably one of the best ever decisions I made. I found the classes exciting and challenging and couldn't wait for the next one. When I reached Red Belt I became one of Lee's first SWAT members, when I got my red suit I wore it with great pride.
In 2003 I gained my first Dan Black Belt. I spared 15 rounds, some against Matt and James Winsper who are both legendary world champions. This was by far the greatest achievement I have ever received. I was Lee's first Student to go all the way from White to Blackbelt also Daniel and I became the first father and son Blackbelt team.
Shortly after gaining my First Dan I opened my first school under Lee Matthews in Bridgnorth, The school is still going today and is very successful.
In 2006 I gained my second Dan Black Belt, for this I had to do a solo parachute,  run the Wrekin three times, do a fire walk and do a full contact kickboxing fight, 15 more rounds of sparing which was even more demanding than the sparing on my first Dan. In 2009 I gained my third Dan.
Apart from my kickboxing training with Lee Matthews I have trained with ex-WBC World Super Middle Weight Boxing Champion Ritchie Woodhall and Braulio Estima Brasilian Ju-Jutsu world Blackbelt Champion. I now put elements of these into my classes to give them an added dimension.
I opened my second school in Wolverhampton and my third in Ludlow. I now teach every night of the week and have around 130 students training under myself and my team.
I also spent four years as a professional boxing referee employed by the British Boxing Board of Control, refereeing over 300 professional fights in front of crowds over 10,000 spectators.
My hobbies include keeping fit, I try to run at least three times a week, I prefer over road and hill runs as opposed to flat road work. I have run a number of half marathons. I also like to walk, I live in the countryside on the Shropshire Worcester border, I love the area and I get out as often as possible.
I have also run 4 very successful fight nights at the Castle Hall in Bridgnorth. I put on over 30 fights in one night and have a crowd of over 300 cheering parents and students. I even have character fights, and the most memorable was Spiderman versus Batman, check this out on You Tube – it's legendary.
In 2009 I was made redundant as Senior Quality Engineer at Ogihara Telford. Martial Arts then became my full time employment and I have never looked back.
I think BMMA offers a fantastic vehicle for students to learn martial arts and take charge of their own self-development.
— Dan
Greater Manchester
It's amazing to see the friendships that are built, their skill level develop and how hard they all work as well as their passion and drive.
— Charlotte
Leeds
Being a coach with BMMA has hugely improved my own personal discipline, as it is always clear what is expected of me - my very best!
— Jake
Greater Manchester
My son, aged 14, has achieved so much. His confidence has grown and is now a qualified instructor and Revolution English Champion. Thank you BMMA for everything!
— Annette
UK
My 2 children come here twice a week. Not only have I seen their fitness improve but their discipline too. A great club with a great atmosphere. I cannot recommend BMMA enough.
— Andy
UK
Jake & Dan's classes have impacted all 3 of my children's confidence, skills, discipline and fitness have improved at an incredible rate - they love the classes and look forward to them all week!
— Samantha
Greater Manchester
As a mum, I love the confidence and techniques they are developing to 'stay safe' and, whilst Jake keeps it fun, I think these are important life skills for all ages. I can't recommend BMMA enough!
— Louise
Greater Manchester
I honestly didn't think Martial Arts was something I'd enjoy but I'm so pleased I gave it a go. Each week combines a tough but fantastic workout in a friendly environment and Jake and Dan never fail to keep the classes such fun. I highly recommend trying it!
— Kerry
Greater Manchester
I attend BMMA as a (cough) mature student who has always been 'allergic' to exercise. But after only a few weeks, I've seen changes in my overall fitness levels as well as positive changes in my body tone.
— Natalie
Leeds
All of the instructors are friendly and helpful, a credit to Charlotte and the effort that she puts in. My daughter is a little soldier and has just accomplished her red and black stripe belt and wants to be a black belt like Charlotte!
— Amanda
Leeds
My children have been training with Charlotte for 7 years and all 3 enjoy her classes. We're very proud to have a black-belt in the family - and two more in the making! The atmosphere at the academy is very friendly and the other instructors are great too. We wouldn't train anywhere else!
— Clara
Leeds
Since starting BMMA, my 2 children have grown in confidence and made tons of new friends. They're always smiling from ear to ear whilst training hard. Thank you Jamie for being an inspiring guide.
— Jeremy
Chippenham