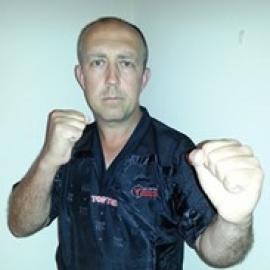 BRITISH MILITARY MARTIAL ARTS CHIPPENHAM
40 Foghamshire Road,
Chippenham,
Wiltshire, SN151HB
Jamie joined the Junior Royal Engineers straight from school at the age of 16, spent four years in British Army on the Rhine – Germany.
He volunteered for and passed the arduous All Arms Commando Course at the age of 22 years old, one of only 17 to pass the course at the first attempt out of an original 60 students, at Commando training centre, Lympstone, Devon.
On completion of his training he was drafted to 59 Independent Commando Squadron Royal Engineers, operating with 3 Commando brigade for 8 years. He made a number of trips to Norway and became a military ski instructor & cold weather warfare instructor, teaching other members of the unit how to live, fight, survive and operate effectively in arctic conditions.
He left in September 2000 and spent 5 years as a ski instructor, in America, teaching all ages and abilities to ski.
Jamie worked extensively as an outdoor activity instructor and Mountain leader in many varied and interesting areas of the U.K and spent 8 years working in the education sector, in both secondary schools and further education establishments; gained Certificate in education – level 5. Most recently teaching students who have a wish to one day join a Military or Emergency service.
Jamie has passed the, notoriously challenging, BMMA L2 Martial arts instructor course and subsequently gained the prestigious Black Belt under Lee Matthews, British Military Martial Arts.
Jamie runs a thriving, ever evolving and growing martial arts school in Wiltshire, he is continually practising martial arts – Kickboxing, boxing, & self-defence techniques.
I think BMMA offers a fantastic vehicle for students to learn martial arts and take charge of their own self-development.
— Dan
Greater Manchester
It's amazing to see the friendships that are built, their skill level develop and how hard they all work as well as their passion and drive.
— Charlotte
Leeds
Being a coach with BMMA has hugely improved my own personal discipline, as it is always clear what is expected of me - my very best!
— Jake
Greater Manchester
My son, aged 14, has achieved so much. His confidence has grown and is now a qualified instructor and Revolution English Champion. Thank you BMMA for everything!
— Annette
UK
My 2 children come here twice a week. Not only have I seen their fitness improve but their discipline too. A great club with a great atmosphere. I cannot recommend BMMA enough.
— Andy
UK
Jake & Dan's classes have impacted all 3 of my children's confidence, skills, discipline and fitness have improved at an incredible rate - they love the classes and look forward to them all week!
— Samantha
Greater Manchester
As a mum, I love the confidence and techniques they are developing to 'stay safe' and, whilst Jake keeps it fun, I think these are important life skills for all ages. I can't recommend BMMA enough!
— Louise
Greater Manchester
I honestly didn't think Martial Arts was something I'd enjoy but I'm so pleased I gave it a go. Each week combines a tough but fantastic workout in a friendly environment and Jake and Dan never fail to keep the classes such fun. I highly recommend trying it!
— Kerry
Greater Manchester
I attend BMMA as a (cough) mature student who has always been 'allergic' to exercise. But after only a few weeks, I've seen changes in my overall fitness levels as well as positive changes in my body tone.
— Natalie
Leeds
All of the instructors are friendly and helpful, a credit to Charlotte and the effort that she puts in. My daughter is a little soldier and has just accomplished her red and black stripe belt and wants to be a black belt like Charlotte!
— Amanda
Leeds
My children have been training with Charlotte for 7 years and all 3 enjoy her classes. We're very proud to have a black-belt in the family - and two more in the making! The atmosphere at the academy is very friendly and the other instructors are great too. We wouldn't train anywhere else!
— Clara
Leeds
Since starting BMMA, my 2 children have grown in confidence and made tons of new friends. They're always smiling from ear to ear whilst training hard. Thank you Jamie for being an inspiring guide.
— Jeremy
Chippenham