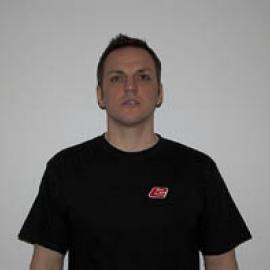 BRITISH MILITARY MARTIAL ARTS KIRKLISTON
Kirkliston Community Centre,
18-21 Queensferry Road, Edinburgh,
Midlothian, EH29 9AQ
BRITISH MILITARY MARTIAL ARTS LIVINGSTON
T.O.D Coaching Gym & Dojo,
Livingston Football Club, Almondvale Road, Livingston,
West Lothian, EH54 7DN
Brian Fernie was born in Tayside in 1969. Whilst at school he played various sports representing his region at Basketball, xcountry and karate. Brian studied the traditional style of Goju Ryu obtaining his black belt at 15.  After leaving school aged 15, he joined the British Army as a Junior Leader and became an Infantry soldier with the world's most famous regiment The Black Watch.
Whilst serving with the battalion he was deployed on various operational tours worldwide and worked with USMC and American Rangers, serving in a multitude of roles including a stint as a Physical Training Instructor.
During his military career he studied Shotokan karate, Shukokai and Kyushinkai styles.
When he finally left the Army in 1996 Brian worked a security contractor before joining the Metropolitan Police Service where he predominantly served in plain clothes roles and Public order units, he served 5 years in London before transferring to Lothian and Borders in Edinburgh where he continued with the same roles.
During his police service Brian utilised his fitness qualifications and qualified in various fitness courses then set up his own Personal Training and Fitness consultancy.
Brian started in 2004 with British Military Fitness as a part-time instructor, quickly becoming the Operations Manager for Scotland, North East England and Northern Ireland, Brian left this role in 2011 and set up his own full time gym, and martial arts centre in Livingston West Lothian.
Brian is also considered as one the country's leading Combat sports strength and conditioning coaches, and one of only a handful of level 2 coaches; he has trained fighters from all martial arts backgrounds from amateurs to world champions and has worked with a variety of teams and fighters. He trained under JC Santana of the Institute of Human Performance, Florida, who trains UFC teams such as American Top Team and various UFC and Strike Force champions.
Brian competed at Triathlon and ranked top fifteen nationally, his passion though has always been combat sports and whilst renewing his interest started studying Kickboxing.
His approach to training is simple, everything should be knowledge led, not necessarily scientifically proven.  When teaching kids he says keep it simple, make it fun, challenging, achievable and rewarding the rest will come.
Brian's personal training covers all aspects from weight training, endurance to S.A.I.D circuits and his motivation is always to lead by example.
I think BMMA offers a fantastic vehicle for students to learn martial arts and take charge of their own self-development.
— Dan
Greater Manchester
It's amazing to see the friendships that are built, their skill level develop and how hard they all work as well as their passion and drive.
— Charlotte
Leeds
Being a coach with BMMA has hugely improved my own personal discipline, as it is always clear what is expected of me - my very best!
— Jake
Greater Manchester
My son, aged 14, has achieved so much. His confidence has grown and is now a qualified instructor and Revolution English Champion. Thank you BMMA for everything!
— Annette
UK
My 2 children come here twice a week. Not only have I seen their fitness improve but their discipline too. A great club with a great atmosphere. I cannot recommend BMMA enough.
— Andy
UK
Jake & Dan's classes have impacted all 3 of my children's confidence, skills, discipline and fitness have improved at an incredible rate - they love the classes and look forward to them all week!
— Samantha
Greater Manchester
As a mum, I love the confidence and techniques they are developing to 'stay safe' and, whilst Jake keeps it fun, I think these are important life skills for all ages. I can't recommend BMMA enough!
— Louise
Greater Manchester
I honestly didn't think Martial Arts was something I'd enjoy but I'm so pleased I gave it a go. Each week combines a tough but fantastic workout in a friendly environment and Jake and Dan never fail to keep the classes such fun. I highly recommend trying it!
— Kerry
Greater Manchester
I attend BMMA as a (cough) mature student who has always been 'allergic' to exercise. But after only a few weeks, I've seen changes in my overall fitness levels as well as positive changes in my body tone.
— Natalie
Leeds
All of the instructors are friendly and helpful, a credit to Charlotte and the effort that she puts in. My daughter is a little soldier and has just accomplished her red and black stripe belt and wants to be a black belt like Charlotte!
— Amanda
Leeds
My children have been training with Charlotte for 7 years and all 3 enjoy her classes. We're very proud to have a black-belt in the family - and two more in the making! The atmosphere at the academy is very friendly and the other instructors are great too. We wouldn't train anywhere else!
— Clara
Leeds
Since starting BMMA, my 2 children have grown in confidence and made tons of new friends. They're always smiling from ear to ear whilst training hard. Thank you Jamie for being an inspiring guide.
— Jeremy
Chippenham