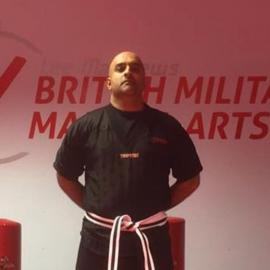 BMMA BIRMINGHAM
Blue Coat School, Somerset Road,
Harborne, Birmingham,
West Midlands, B17 0HR
BMMA BIRMINGHAM
Harborne Swimming Baths,
Lordswood Road, Harborne, Birmingham,
West Midlands, B17 9QS
BMMA BIRMINGHAM
University of Birmingham School,
12 Weoley Park Road, Selly Oak, Birmingham,
West Midlands, B29 6QU
BMMA BIRMINGHAM
Ulverley School, Rodney Road,
Solihul, Birmingham,
West Midlands, B92 8RZ
BMMA BIRMINGHAM
Langley Primary School, St Bernard's Road,
Solihul, Birmingham,
West Midlands, B92 7DG
AIMRAN MAJID
WEST MIDLANDS
Hi I'm Aimran Majid I am an enthusiastic and passionate Martial Artist.
I am a member of the Shaun Rawcliffe Midlands Wing Chun School of which I have been a member since 2008. I am now at Biu Tze standard trained by my Sifu Umar Choudry.
I have had the privilege to train at the Grandmaster Ip Chun's School under his supervision who is the son of legendary Ip Man.
In addition I was an assistant instructor for over two years on a children's street defence program named Defence Lab and attended the Head Quarters in Valencia Spain to train under the instruction of Andy Norman.
In early 2017 I embarked on the L2 instructor's course with an A grade under the supervision and guidance of Lee Matthews, founder and owner of BMMA.
I have always been into sport, at the age of 14 I had Trials for the Warwickshire cricket team however a road traffic accident prevented me from continuing this journey any further.
Over the years I have kept fit and really enjoyed the benefits of exercise. The reason I began martial arts is because my background is working as a club promoter and for many years I witnessed physical altercations and often asked myself the question "what would I do if I found myself in a violent situation" the truth be known if I'm totally honest I did not know, this lack of knowledge inspired me into taking up martial arts, and can say it's been an amazing journey being taught by some leading instructors within their field and by also listening to their stories and the stories of fellow students. Having this understanding certainly helps in self-esteem and the fitness side of martial arts is a big bonus because active recreational activity is a must for everyone and the two marry well together.
I am very passionate about the development of children and as an assistant instructor for two years in Self Defence I enjoyed seeing youngsters from the ages of 4-13 go through the training process and grow to become stronger characters. Its attributes like this that attracted me into wanting to teach children. As a parent myself I empathise with parents as we all worry about our children, the main concern being bullying sad fact but very true. Anti-Bullying is very important to us here at Bmma Birmingham which is why Lee Mathews and I have got the support of The Princess Diana anti-bullying award. In my classes I will make sure bullying is discussed and understood and how to not remain silent. We at British Military Martial Arts are also proud to support the National Autistic Society, Finally last but not least I am fully supported by Rush Trampoline Park where trips will be organised for all the children and parents to attend as a group which will encourage bonding and lots of fun in our martial arts family.
So please come and join our classes make new friends and be part of our Martial Arts Family.
I think BMMA offers a fantastic vehicle for students to learn martial arts and take charge of their own self-development.
— Dan
Greater Manchester
It's amazing to see the friendships that are built, their skill level develop and how hard they all work as well as their passion and drive.
— Charlotte
Leeds
Being a coach with BMMA has hugely improved my own personal discipline, as it is always clear what is expected of me - my very best!
— Jake
Greater Manchester
My son, aged 14, has achieved so much. His confidence has grown and is now a qualified instructor and Revolution English Champion. Thank you BMMA for everything!
— Annette
UK
My 2 children come here twice a week. Not only have I seen their fitness improve but their discipline too. A great club with a great atmosphere. I cannot recommend BMMA enough.
— Andy
UK
Jake & Dan's classes have impacted all 3 of my children's confidence, skills, discipline and fitness have improved at an incredible rate - they love the classes and look forward to them all week!
— Samantha
Greater Manchester
As a mum, I love the confidence and techniques they are developing to 'stay safe' and, whilst Jake keeps it fun, I think these are important life skills for all ages. I can't recommend BMMA enough!
— Louise
Greater Manchester
I honestly didn't think Martial Arts was something I'd enjoy but I'm so pleased I gave it a go. Each week combines a tough but fantastic workout in a friendly environment and Jake and Dan never fail to keep the classes such fun. I highly recommend trying it!
— Kerry
Greater Manchester
I attend BMMA as a (cough) mature student who has always been 'allergic' to exercise. But after only a few weeks, I've seen changes in my overall fitness levels as well as positive changes in my body tone.
— Natalie
Leeds
All of the instructors are friendly and helpful, a credit to Charlotte and the effort that she puts in. My daughter is a little soldier and has just accomplished her red and black stripe belt and wants to be a black belt like Charlotte!
— Amanda
Leeds
My children have been training with Charlotte for 7 years and all 3 enjoy her classes. We're very proud to have a black-belt in the family - and two more in the making! The atmosphere at the academy is very friendly and the other instructors are great too. We wouldn't train anywhere else!
— Clara
Leeds
Since starting BMMA, my 2 children have grown in confidence and made tons of new friends. They're always smiling from ear to ear whilst training hard. Thank you Jamie for being an inspiring guide.
— Jeremy
Chippenham